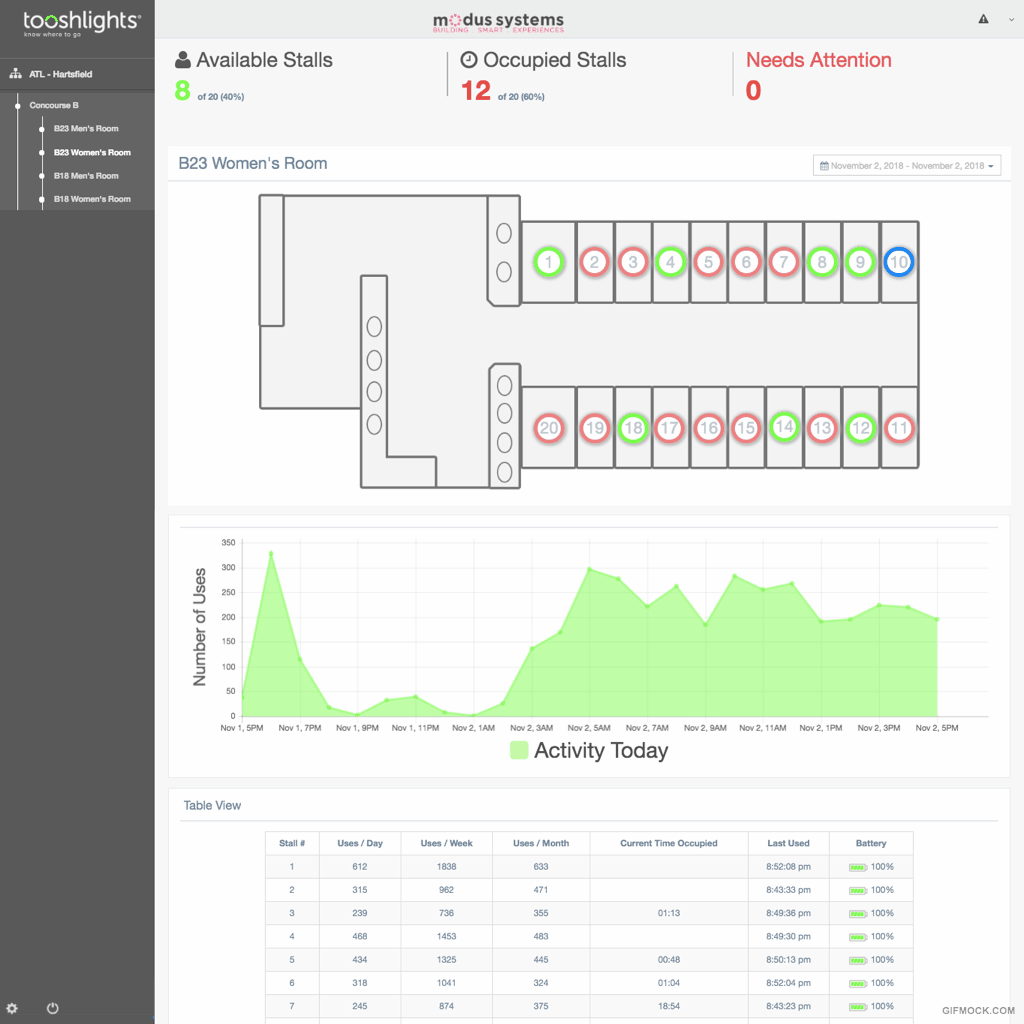 "Just because there's a long line, doesn't mean your restroom is popular"
Tooshlights is an

Internet Of Things (IOT) Technology

that pairs a smart latch and an indicator light. Specifically created to improve the bathroom experience, when the stall or restroom is available, the light is green. When the stall or restroom is occupied and the smart latch or deadbolt is activated, the light turns red.

These visual indicators 
reduce wait time and guide patrons to the next available restroom stall.
· Design a restroom analytics dashboard for facility managers, that would prioritize providing them with useful insights faster.
· Create better facility management
· Drive additional revenue
I was able to

create personas and prioritize the features

 of the dashboard through interviews. Prior to this, I had no clue what a facility managers job involved and what their needs or pain points were. Speaking with them individually helped me understand the deeper details and how this dashboard would help address some of these key issues
​​​​​​​
The dashboard also has an impact on other groups, such as employees and stakeholders who are indirect beneficiaries of it. To analyze the user's needs from their angle, I created use cases and indentified how features could help them.​​​​​​​
The exercise of interviewing facility managers and creating user stories provided important details which I then translated into user goals, and motivations as follows-
· Be able to toggle between different incoming data for each facility
· Know the status of all stalls
· Have a visual representation for the layout of each facility
· A visual representation of the data for each facility
· Have the ability to control sensory light settings
· Have the ability to control battery settings
EXPLORING DATA VISUALIZATION
I presented facility managers with a set of "data visualization cards" for concept testing. The goal at this stage was to validate which views of the data would be most useful and immediately understandable. I ultimately moved forward with an 

area chart

design. It  better depicted to the user,  a 

time-series

relationship between the number of bathroom usage and the activity per day. ​​​​​​​
PROTOTYPE AND USABILITY TESTING
I created initial feature sketches and wireframes which I converted into a clickable prototype. Clients were presented with the prototype as a means of validating that we had covered all the use cases.
After validating that all the use cases have been designed for during the prototype testing, the final wireframes were tested for usability to ensure the UX is intuitive.
I used different techniques like color, typography and layout to emphasize importance, and draw the user's eye straight to the thing(s) that need immediate attention. The use of bold, and meaningful color tells the user/facility managers something important in a split-second (number of stalls open vs. closed, patterns of use etc.)—something that might otherwise have taken close to an hour to decipher
Tooshlights was first launched in 2018 in a few small locations. It is now in big venues such as Dodger Stadium, Hollywood Bowl and airports such as LAX and DFW just to name a few.
This was probably one of my favorite projects firstly because of the offline experience offered by the technology. While my deliverables were digital, I found it to be a unique opportunity and a new way of thinking about things, where I had to

marry the online and offline experiences.

Secondly, I got to learn about the work involved in managing big facilities and venues that I have been to many, many times. I enjoyed the empathy that went to the research and interviews. It gave me new perspective going forward both as a designer and patron.